Product introduction:
Silicone rubber sheet have comparatively low mechanical properties, tensile strength, elongation and tear strength, however silicone rubber sheet keep constant even at high temperatures but should not be used with high pressure steam. Silicone rubber sheet resistance to oils and hydrocarbon products is fairly limited and similar to that of chloroprene rubbers. Reasonable resistance to a whole range of general chemical products, but acids, alkalis, esters and ketone should be avoided. Silicone rubber sheet has excellent resistance to heat(dry air),at +200℃ intermittent. Silicone rubber sheet remains flexible at low temperatures of -70℃ and is also resistant to ultra-violent light, ozone and weathering. And silicone rubber sheet has good electrical insulation properties.
Features:
1) Excellent resistance to heat (dry air), at +200º C continuous and +220º C intermittent.Remains flexible at low temperatures of -50ºC.
2) Resistant to ultra-violet light, ozone and weathering
3) Good electrical insulation properties
4) Keep constant even at high temperatures

Technical data:

Quality
Specific Gravity
Tensile Strength
Elongation
Hardness
Temperature
Silicone Rubber
1.3 g/cm3
7Mpa
350%
40+/-5 shore A
-60/+220℃
1.15g/cm3
7Mpa
350%
40+/-5 shore A
-60/+220℃
Application
Silicone rubber sheeting is preferred choice of the medical, pharmaceutical and food processing industries. It also maintains its stability in extreme environments, and its operative properties remain invariable over a wide temperature range, used in a large number of industrial applications in the automotive, electronics and lighting sectors, amongst others.
ITEM NO.
TSI-S
Resistance
Thickness

1.0mm

2.0mm

3.0mm

4.0mm

6.0mm

8.0mm

Oil
Good
Width
1000mm 1200mm
Aging
Good
Length
5m / 10m
Fuel
Not Recommended
Colour
Red / Transparent / Black
Acidity
Good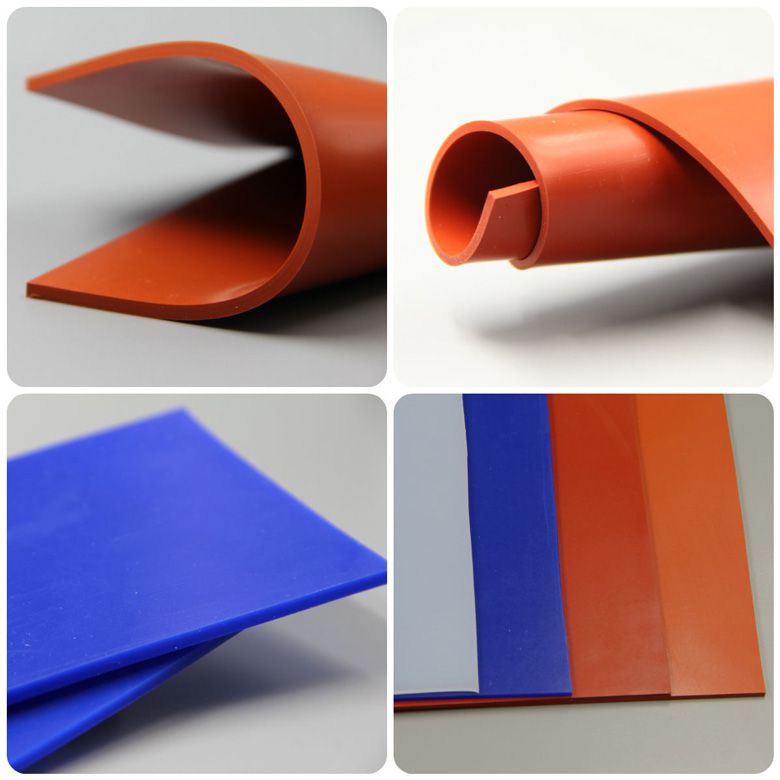 OEM & customized size are agreed. Packing in rolls and pallets.